KORAWALL WI
Wall mounted convectors with optimized convection
KORAWALL WI convectors with forced convection Developed for low temperature heating systems, high efficiency guaranteed also at very low temperature gradients, e.g. 35/30 °C. Ideal everywhere where the heat source is a heat pump, a solar system, a condensation boiler or as a supplementary source of heat for fl oor heating, particularly during a transitional period or when an instant temperature increase in the room is required. At the same time suitable for rooms' dry-cooling during the summer months. All of this with the benefi ts of the Optimized Convection system – low noise and low fan input while maintaining maximally attainable performances. Univeral use – heating and dry-cooling! Wall-mounted convector with forced convection KORAWAL WI 45/11 height 45 cm, depth 11 cm used for heating or dry-cooling high efficiency even at low temperatures of the heating system patented design solutions high-perfomance, low energy and quiet fans the same regulation as the one for floor convectors KORAFLEX FV and free standing convector with forced convection KORALINE LV two-pipe system right bottom connection possibility of control through BMS the convector is intended for dry environment.
Show full text
délka od 750 do 2000 mm (po 250 mm)
KORAWALL WI we offer these in 24 alternatives
Enter required dimensions.
Heat output
(For professionals)
t1: 75 °C
t2: 65 °C
ti: 20 °C
ΔT: 50 °C
The heat output of the radiator should cover the specified heat losses of the heated room, which are calculated by the designer. t1 – temperature of input water entering the radiator t2 – temperature of output water exiting the radiator ti – relative air temperature (design temperature of air in the room) (Temperatures t1 and t2 are based on the design documentation of the heating system or the selected heat source)
The basic colour is RAL 9016 white, other colours are subject to a surcharge.
Select all

Dimensions (H × L × D)

Heat output

Tepelný výkon radiátoru má pokrýt stanovené tepelné ztráty vytápěné místnosti, které jsou vypočteny projektantem.

Color

Stupeň nastavení ventilátoru

Your selection

Dimensions (H × L × D)

(mm)

450 × 1000 × 106

540

Color

Basic white

Stupeň nastavení ventilátoru

0

Your selection

Dimensions (H × L × D)

(mm)

450 × 1000 × 106

1646

Color

Basic white

Stupeň nastavení ventilátoru

1

Your selection

Dimensions (H × L × D)

(mm)

450 × 1000 × 106

2186

Color

Basic white

Stupeň nastavení ventilátoru

2

Your selection

Dimensions (H × L × D)

(mm)

450 × 1000 × 106

2770

Color

Basic white

Stupeň nastavení ventilátoru

3

Your selection

Dimensions (H × L × D)

(mm)

450 × 1250 × 106

720

Color

Basic white

Stupeň nastavení ventilátoru

0

Your selection

Dimensions (H × L × D)

(mm)

450 × 1250 × 106

2195

Color

Basic white

Stupeň nastavení ventilátoru

1

Your selection

Dimensions (H × L × D)

(mm)

450 × 1250 × 106

2915

Color

Basic white

Stupeň nastavení ventilátoru

2

Your selection

Dimensions (H × L × D)

(mm)

450 × 1250 × 106

3693

Color

Basic white

Stupeň nastavení ventilátoru

3
Technical information
Technical Data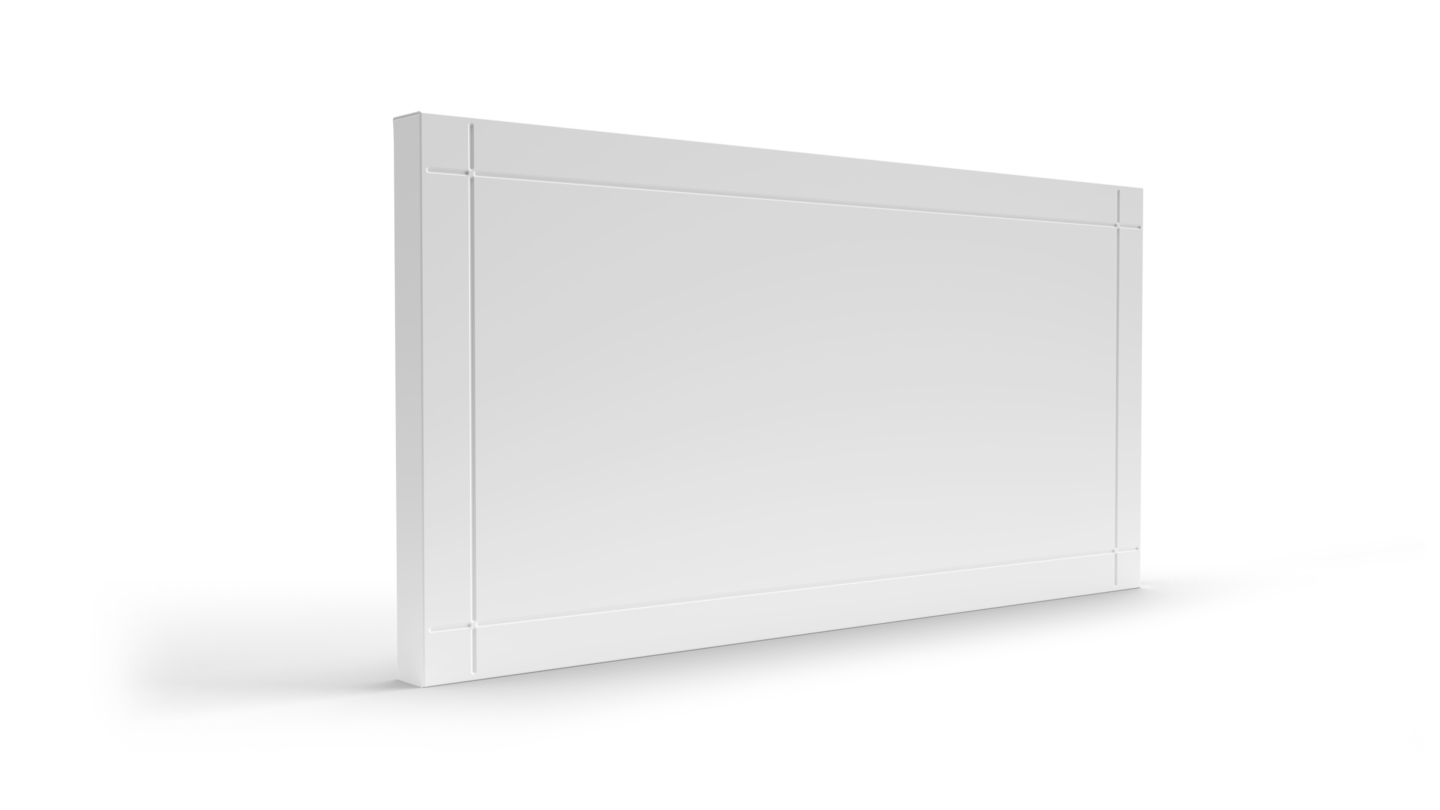 | | |
| --- | --- |
| H: Height (mm) | 450 |
| L: Length (mm) | 750, 1000, 1250, 1500, 1750, 2000 |
| Depth (mm) | 106 |
| Highest allowed working temperature (°C) | 110 °C |
| Highest allowed working pressure | 1,2 Bar |
| Connecting thread | G½ inside |
Heat output
Height [mm]
450
Depth[mm]
106
Length (mm)
750
1000
1250
1500
1750
2000
Max příkon / Napětí DC
5,5/ 13,5
5,5/ 13,5
5,5/ 13,5
5,5/ 13,5
8/ 13,5
8/ 13,5
8/ 13,5
8/ 13,5
9,5/ 13,5
9,5/ 13,5
9,5/ 13,5
9,5/ 13,5
14/ 13,5
14/ 13,5
14/ 13,5
14/ 13,5
16/ 13,5
16/ 13,5
16/ 13,5
16/ 13,5
18,5/ 13,5
18,5/ 13,5
18,5/ 13,5
18,5/ 13,5
Hlučnost - akus. tlak 1 m Lp (A)
0
23.1
31.3
38
0
23.4
31.7
38.5
0
23.7
32.1
39
0
24
32.5
39.5
0
24.4
33
40.1
0
24.7
33.4
40.6
Poloha přepínače
Vyp.
1
2
3
Vyp.
1
2
3
Vyp.
1
2
3
Vyp.
1
2
3
Vyp.
1
2
3
Vyp.
1
2
3
ΔT50
270
823
1093
1385
540
1646
2186
2770
720
2195
2915
3693
810
2469
3279
4155
990
3018
4008
5078
1170
3566
4736
6002